Join the YMCA today! 
When you become a Y member, you're joining a supportive community. Working together to complete your wellness goals suddenly makes them much more attainable. No matter your goals, fitness level, age, or interest, a Y membership can help you be your best.
If you're looking for extra encouragement or added variety to your workout, try joining a group fitness class. We offer over 100 free classes, which are exclusive to our members. Our professional instructors are your own personal fitness mentors. You could say that with every Y membership, motivation and encouragement come standard.
How to Join:
Stop by and visit one of our branch locations and talk to our expert staff about becoming a member and take a tour of our facilities. 
Membership Dues:
YMCA members are drafted once a month and with no contract you are able to cancel at any time. Membership dues can be paid in one of two ways:
Monthly: Automatic Electronic Draft through your credit/debit card or checking/savings account.
Annually: Payment in full by credit card 6 or 12 months in advance.
YMCA Household Memberships:
WORKOUT together while the kids PLAY together! The YMCA is the family friendly gym that has something for everyone!
YMCA household members enjoy:
Free Child Watch Services
Family Friendly Environment 
Family Swim Times
Family Activities and Events
Parents Night Out 
Member-pricing on YMCA programs, including Swim Lessons and more!
Day Passes: 
Day Passes are available for YMCA members to bring a guest for a daily rate. Please click here for pricing and additional information. 
Membership Hold: 
We offer members the option to put their membership on hold for however many months they need. Each month that the membership is on hold costs $10 per month and is pre-paid upfront. If you wish to place your membership on hold, please stop by the front desk.
Financial Assistance:
Through the generosity of donors, we are able to provide programs and services to those who may not otherwise be able to participate due to financial reasons. All Y members receive the same membership benefits, regardless of assistance. Click Here
Silver Sneakers:
The YMCA of Metropolitan Lansing offers Silver Sneakers®, the nation's leading exercise program for active older adults who are Medicare eligible.  This innovative program provides opportunities for seniors to improve their fitness, health, and well-being. For more information, click here 
Military Membership: 
In partnership with the Armed Services YMCA (ASYMCA), the Y is proud to offer a 6-month membership to eligible military families and personnel through the Department of Defense's (DoD) Military Outreach Initiative (MOI). To qualify for this program, military members and families must meet eligibility criteria for one of the program categories: Please click here for more information.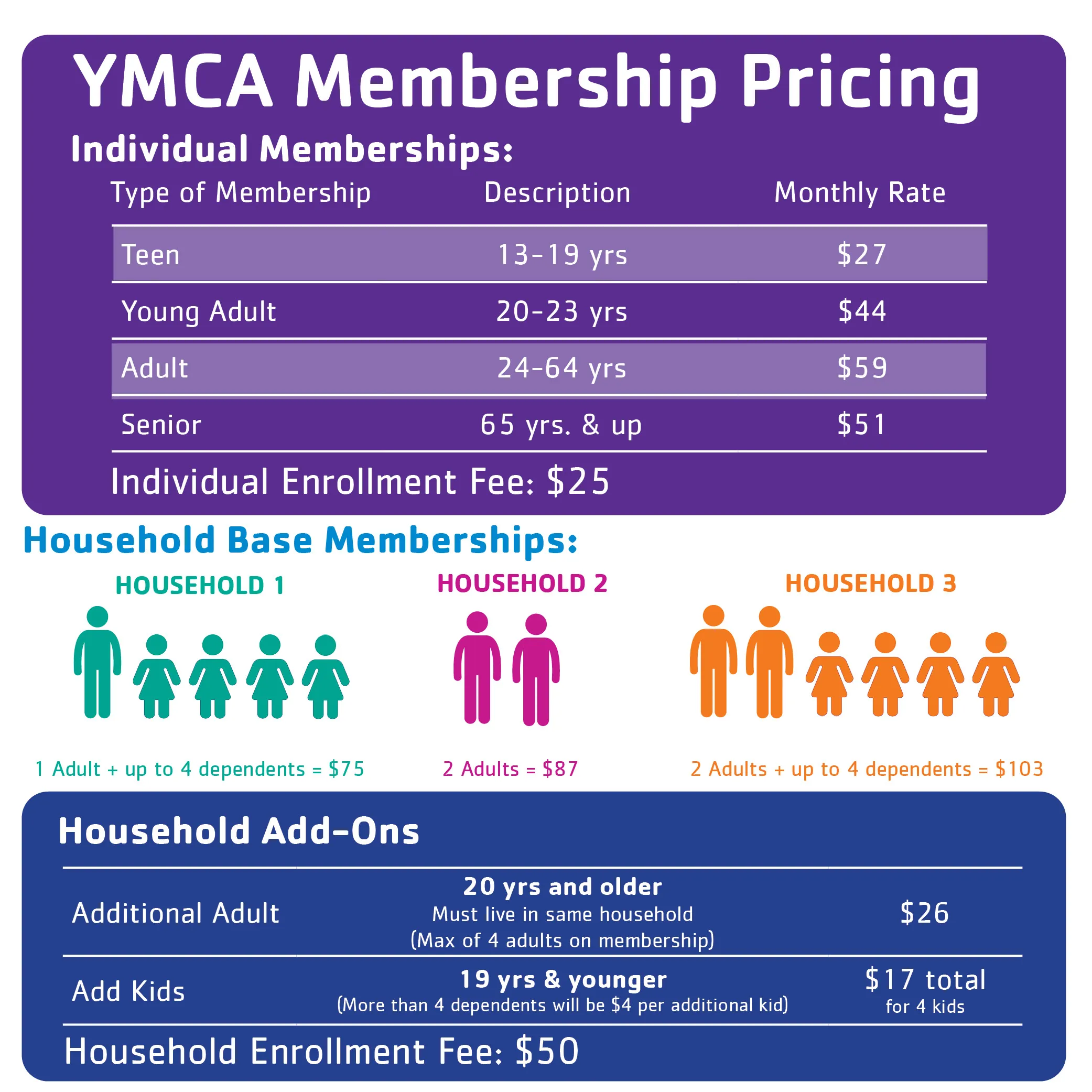 Membership Add-ons: Additional adults $26  (ages 20 and older)
$17 for 4 kids. More than 4 dependents will be $4 per additional dependent (ages 19 and younger)
Membership Senior Discount: *Must be Primary / Head of Household on account. *$8 discount for primary seniors (65 and older).
WHY JOIN THE Y?
The Y is a nonprofit organization committed to helping everyone thrive at each stage of life. Our community brings together people of all abilities, ages, ethnicities, financial circumstances, genders, races, religions and sexual orientations.
Your membership includes all of the following:
State-of-the-art fitness centers
Includes cardio equipment, functional training spaces and free weights.
Pools for lap swimming and swim instruction
A safe environment for swimming, fitness and running for all ages and abilities.
Free group exercise classes
With hundreds of classes to choose from, you'll find something that's right for you.
Free child care while you workout
We offer free play, arts & crafts, story times and more.
Access to all YMCA of Metropolitan Lansing branches.
Including access to all 3 YMCA branches across the Lansing Area. 
Virtual Options
Access to a variety of Virtual Fitness Classes and member pricing on Virtual Personal Training sessions!
Savings on swim lessons, programs and so much more.
At the Y, there is something for everyone. Discover new passions, new friends and new skills.
Have questions regarding a Y membership? Fill out a Form and our staff will reach out to you!