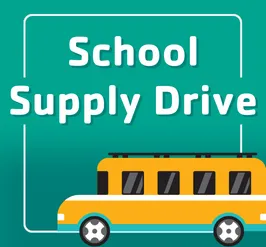 School Supplies Drive: Each branch is doing a school supplies drive to support a local school or fundraiser. Please consider donating to help these amazing causes. Donations can be dropped off at the branch in the donation bin located in the lobby. 
THINGS TO DONATE:
Pens & Pencils
Paper
Notebooks
Markers
Crayons
Colored Pencils
Scissors
Glue
Folders
Westside YMCA
September 1-30   Supplies will be donated to:  Westside Homeless Angels
Parkwood YMCA "Fill the Bus" Event
August 30th – September 15th
Supplies will be donated to:  Edgewood Village, MSU Student Parent Resource Network and Lansing School District.
Oak Park YMCA
September 1-30   Supplies will be donated to:  Gardner Schools